2022 Texas Veterans Parade
The Texas Veterans Parade, Corsicana exists to honor Texas Veterans from all Wars and Conflicts and to teach our children about the sacrifices of Veterans, liberty, and freedom. To reach the Parade Headquarters telephone 903-354-4628.
The 2022 Parade will start at 10 a.m. at the Gold Star War Monument located on the Navarro County House lawn.  The Medal of Honor Program at the historic Palace Theater in Corsicana starts at 5:30 p.m. Friday night, May 20.
Afghanistan Medal of Honor holder William Swenson will be the Grand Marshall of the Texas Veterans Parade on Armed Forces Day, Saturday morning May 21 at 10:00 am in historic Downtown Corsicana. The parade will honor current and past Military Veterans from all wars and conflicts.
The parade will also honor two Corsicana and Navarro County heroes, Candelario "Spider" Garcia, 2014 Medal of Honor recipient, and the namesake of our county, Jose Antonio Navarro, who signed both the Texas Declaration of Independence and the Texas Constitution.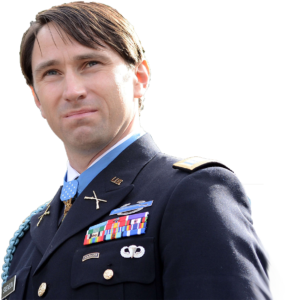 Lieutenant Colonel William Swenson
Congressional Medal of Honor Recipient
Parade Grand Marshall